*Vajazzle It Yourself !
I loved this when I saw it in the paper today as I am a fan on The Only Way Is Essex . You have to have a giggle .
Well Done Superdrug !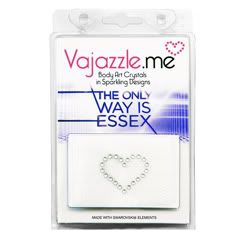 Superdrug is launching cosmetics, including a 'DIY Vajazzle kit', for lovers of the living soap starring Mark Wright, Lauren Goodger, Sam Faiers and Kirk Norcross. The range will also include lip gloss, mascara, "Be Reem" perfume for men and a mini-bronzer.

The word 'vajazzle' was used by beautician Amy Childs to describe adding decorative jewels after a bikini wax. A TOWIE fashion range including dresses, shoes, hats and nightwear is also planned.
Lets keep our eyes open for this one then .