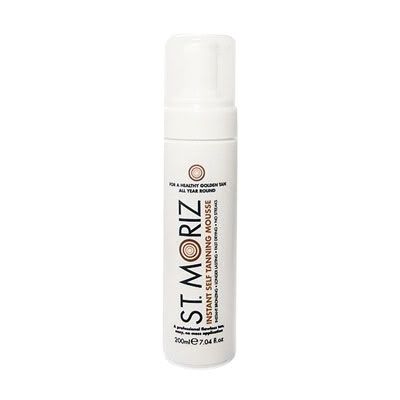 I find a lot of people are afraid of fake tan because of those scary pictures we see of 'tangoed' celebrities in gossip magazines . Not all self-tans are orange . . . pick the right one and you can't go wrong .
St. Moriz
Instant Self Tanning Mousse comes tops for me . The coverage and price pull me back in every time .It is exactly the same as the St Tropez mousse but at a fraction on the price . At the rate you can go through at bottle of tan the cheaper the better . St Moriz is only £2.99 ! Available online or from TJ Hughes , Tesco and Savers . So give it a go .
Tips
Make sure you always exfoliate before applying your tan , to remove any dry dead skin because the tan loves to stick to your dry patches .
Use a tanning mit for getting the mousse all over . It also buffs the tan to reduce chances of streaking (although even using a glove which St. Moriz I get no streaks) .
Personally I like to apply every 2-3 days to keep the tan dark .
The smell is not as bad as most , I moisturize before & after tanning so any smell is covered .
I'd recommend lots of moisturiser because St. Moriz can make ur skin feel a little dry .
Sleep on a towel if your worried about ruining your bed sheets.
♥