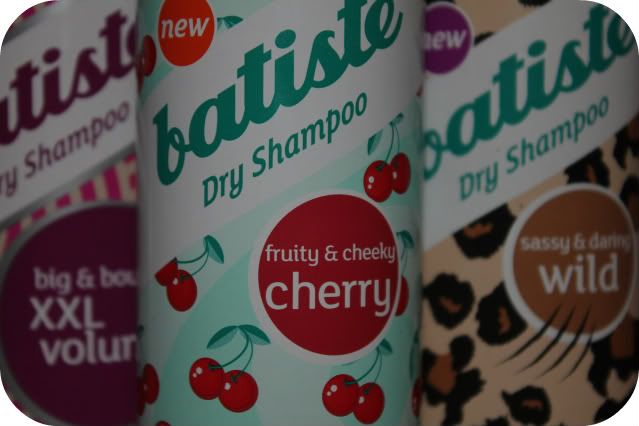 I picked up a few cans of Batiste Dry Shampoo today because it is currently 3 for 2 at Boots , Bargain .
I love this stuff
. Every scent smells so yummy , as you'll see above the newest smelly is cherry which smells so good , it comes in 14+ different scents and now even comes in shades to match your hair colour . But I am not a fan of this product because of the reason displayed on the tin .
I mainly use it because of being a blonde !
My roots are much darker than the colour that my hair is dyed . Applying Batiste's light white talc product to my roots make them appear much lighter than they actually are . This is a god send between dying sessions . If you are any shade of blonde and want to banish that regrowth then bung a mini can in your handbag for on the go .
Also another awesome reason to use Batiste
is for creating that just rolled out of bed look , adding a bit of body and texture to messy updo's . So if your into backcombing and lazy looking hair this is the way to go .
An regular size can doesn't last very long at all , I go through a can so quickly and for the price per can (RRP £2.99) it can be a tad annoying having to repurchase so often .
Dry shampoo can lay on top of your hair when not rubbed into your roots , therefore (learning for embarrassing past experiences) when photos are taken with a flash shampoo becomes visible , it looks like thick grey roots . So be careful there .
The coloured dry shampoo doesn't match every hair shade .
Are there any other dry shampoo's out there that you love and that you'd recommend ?
♥